★
Natural Order
Their debut 7" full of riffs stolen from Adamantium, Disembodied and Vision of Disorder with vocals directly lifted from the xClearx LP is going to be available to buy later on today. Simply one of the most exciting new bands in Hardcore.
If you don't know, members of;
Hang The Bastard and More Than Life
Ex-members of;
Ark of The Covenant, Carrion of Vigrid, Deal With It, Ironclad…
They are handling distribution of this record themselves so keep an eye out for the link.
★
Ghostfest in review
So proud and grateful of all the support we and our bands received this weekend, and all the positive tweets etc afterwards.
Siked on the sets and responses from BWP, Breaking Point & Broken Teeth. Proud of our people and what they are doing.
Gutted I missed a Bulldoze cover(BXP, please take note) but Crossbreaker covering Pennywise was a consolation. Caught Comeback Kid play a few older bangers too, should have moshed.
Shout out again to all our friends old and new (LS4 is going to own 2012 and rightly so), all the people and bands down with the PR, the South Wales girls repping hard both days, the list just goes on and on… if you are fam, you already know, but even if you aren't believe we appreciate you all!
See you at SummerJam!!!
★
Summer Jam 2012
Total Purgatory take over on the Sunday!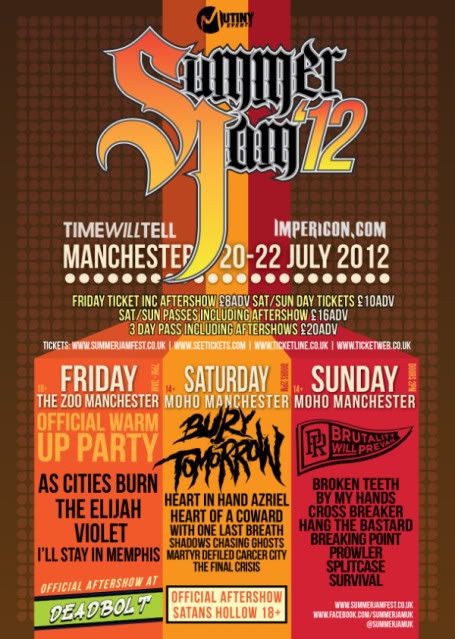 #yrmoshin 
★
Update 12/04/2012
Pre-Orders:
The Frustration and Broken Teeth pre-orders should be heading back from the pressing plant any day now so keep your eyes pealed for those or get your orders in if you haven't.
New Purgs Stuff:
We should have 2 new tapes to annouce and 3 new records(a LP & 2 7") in the very near future. I'm sure you all already know who anyway, but we're not saying just yet. Well, one of the 7" is Natural Order so check them if you haven't:
http://wearethenaturalorder.blogspot.co.uk/
Older Purgs Stuff:
The Burnt Earth (http://burntearth.bandcamp.com/) Tape is still available in limited numbers, and some of the older releases are now cheap as hell too.
http://purgatoryrecords.bigcartel.com/
Non-Purgs Stuff:
Check out http://hemlock13coven.tumblr.com/ & http://mtldn.tumblr.com/ - if we weren't doing our label and in our own bands, we'd want to be doing that label or be in that band!